Two shows coming up later this month. The first is at Studenterhuset, with Lasse Krog Andersen, on thursday the 20th of October (facebook event: https://www.facebook.com/events/1159975607393763/).
The second, which is organized by the lovely Bragagild, will be a solo show with just accoustic guitar and voice, the day after, namely on friday the 21st of October. Also playing will be neo-folkers Dune Messiah and harp-player Niss Stricker. Poster below, facebook event here: https://www.facebook.com/events/914601888641905/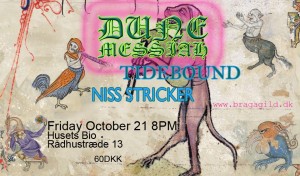 These two shows will be the last Tidebound shows of 2016.